Some days—
— your happy song,  one that you cannot get out of your mind, plays on all the radio stations during your morning commute – and it's not a bad thing (I seriously love this song even though I have NO idea what the lyrics mean!)
— you are wearing a totally rocking outfit which gets several compliments
— you do an awesome job on an important presentation (even though you were so nervous that you've sweat through the waistband of your pants…not that we're speaking from personal experience here…)
—you come home to this face, one that happily greats you at the door and patiently allows you to pet him for as long as you please a few minutes (a leftover apple core from your lunch will buy a few more minutes, however):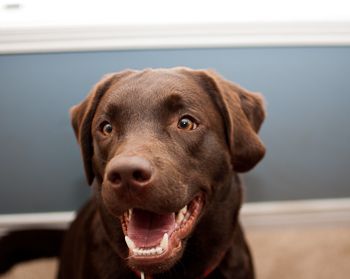 But.
Some days—
— none of those things happen—
— and you've had to sit in terrible traffic both to and from work. And you're in a terrible mood.
Those are the days that call for this one pot, quick dinner that hugs you from the inside out and is ready in about 30 minutes. It is super flavourful – spicy, cheesy and filling – and just the thing to get you out of a 'bad day' funk.
The original recipe calls for almost 4 tablespoons of butter, but I took it down to 2 teaspoons of butter to make it a bit healthier. We love our food on the spicy side so I keep the seeds in the jalapeño. I usually serve it with just plain rice but kicked it up a bit this time with a south-western rice pilaf, which complemented the meal perfectly (recipe for the pilaf coming soon!)
Tex-Mex Chicken with Chiles and Cheese
Ingredients
1-1/4 lb. boneless, skinless chicken breast halves, trimmed and sliced ¼ inch thick
1-1/2 teaspoon chili powder
½ teaspoon ground cumin
Kosher salt and freshly ground black pepper
½ cup all-purpose flour
2 teaspoons unsalted butter
1-1/2 cups fresh or thawed frozen corn kernels
1 medium jalapeño, seeded if desired and thinly sliced
1 large clove garlic, minced
2–3 medium limes, 1 or 2 juiced to yield 3 Tablespoons and 1 cut into wedges
1 Tablespoon chopped fresh oregano
1 cup grated sharp Cheddar
Instructions
Position a rack about 4 inches from the broiler and heat the broiler to high.
Toss the chicken with the chili powder, cumin, ¾ tsp. salt, and ½ tsp. black pepper. Lightly dredge the chicken in the flour and shake off any excess.
Melt 1 teaspoon of the butter in a 12-inch ovenproof skillet (preferably cast iron) over medium-high heat. Add the chicken and cook, stirring occasionally, until browned, about 5 minutes. (The chicken should not be fully cooked through at this point) Transfer to a plate.
Add the remaining 1 teaspoon butter, the corn, jalapeño, garlic, and ½ tsp. salt. Cook, stirring, until the corn begins to brown lightly, 2 to 3 minutes. Add the chicken, lime juice, oregano, and ½ cup water. Cook, stirring, until the chicken is just cooked through, about 2 minutes. Sprinkle with the cheese and transfer the skillet to the oven, under the broiler. Broil until the cheese melts and browns on top, about 3 minutes. Serve with lime wedges.
Adapted from: Fine Cooking