What would Thanksgiving be without a slice of pumpkin pie.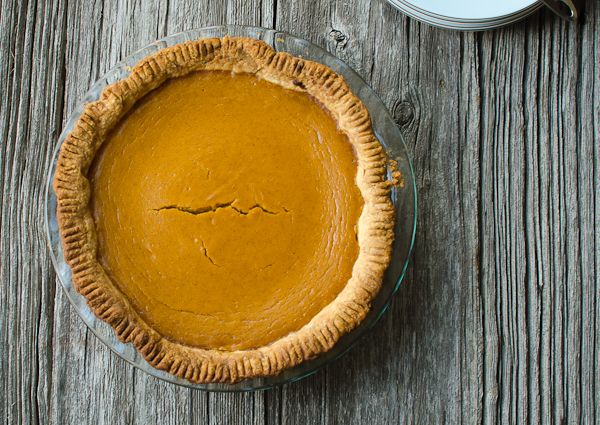 Confession – I didn't like pumpkin pie until this year, which is so weird because I just love pumpkin flavoured eats.
A couple of weeks ago, we were invited for a Sunday lunch by some friends from church and she had made pumpkin pie and chocolate brownies for dessert.  I chose the brownies, obviously. But Jon had pumpkin pie and I snuck a bite – which became 1/2 his entire piece! Pumpkin pie hater to pumpkin pie lover – in one bite! The texture of that pie was amazingly smooth and creamy, without being over-the-top heavy. It was delightful (said the 90 year-old grandma in me).
So, for Thanksgiving, along with the rolls, I volunteered to bring along some dessert. I originally intended to make pumpkin chocolate chip cookie pie from how sweet it is, but I was browsing through the last issue of Gourmet (remember Gourmet? I had snatched up that last issue…a memento) and came upon their Bourbon Pumpkin pie and was reminded of the pumpkin pie that I'd had just weeks before and had to make it.
The pie is just perfect – smooth and light tasting (but not actually light). The sour cream and heavy cream make the filling taste almost velvety smooth. I substituted  vanilla extract for the bourbon and thought it just perfect. All our Thanksgiving guests thought the pie was absolutely delightful too. The pastry itself, is super flaky, but I thought the directions in the magazine resulted in a slightly over-baked pie shell which was a bit hard to cut through. Since the crust wasn't a total hit, I haven't included the directions below for it. Gourmet calls for the crust to be pre-baked for 35 minutes and then cooked for 45 minutes with the filling – which was way too long. I've updated the recipe below to reflect my changes.
perfect pumpkin pie
A delightfully smooth and light (tasting) pumpkin pie – you won't ever need another recipe!
Ingredients
Pastry dough (for one 9½ inch deep dish pie)
1 (15-oz) can pure pumpkin
1 cup heavy cream
⅓ cup sour cream
2 large eggs
¾ cup sugar
2 teaspoons vanilla extract
1 teaspoon cinnamon
¾ teaspoon ground ginger
¼ teaspoon all spice
¼ teaspoon salt
Instructions
Preheat oven to 375 degrees with rack in the middle. Line the pie plate with crust and crimp the edges decoratively. Lightly prick the bottom all over with a fork. Chill until firm, at least 30 minutes or freeze for 15 minutes.
Line shell with foil and fill with pie weights or dried beans. Bake until side is set and edges are golden, about 15 minutes. Carefully remove pie weights and cool shell completely.
Whisk together all other ingredients and pour into cooled pie shell.
Bake until edge of filling is set but center trembles slightly, about 45-55 minutes. The filling will continue to set as it cools and so will be overcooked if it's cooked fully in the oven.
Cool completely before serving.
Adapted from Gourmet, November 2009