Happy Canadian Thanksgiving everyone!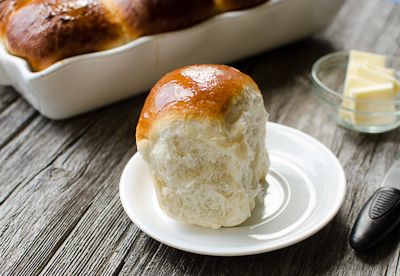 We've enjoyed a nice long four-day long weekend at the big dog household. Jon gets an extra day off from work for every long weekend (lucky duck!) and I usually end up taking a day off from work too. Unfortunately, after four days off, the return back to work is extra hard – not just for the humans, but the pooches too!
Right at this moment, Russell is sleeping off major turkey-belly on his bed. And Riley… well Riley is a dog with an endless and bountiful amount of energy that never ends.  Right now, he's pacing between the living room and kitchen, hopelessly waiting for someone to throw some balls for him.
It's been an action-packed weekend for us – Friday, we headed up to a conservation area about 20 minutes from our house for a long walk. Riley was off-leash and got to explore the woods and chase a few squirrels. Russell enjoyed the walk while tethered to his humans. It was such a great walk that we planned on going on a few more this weekend, but, as it usually goes, we just plumb ran outta time!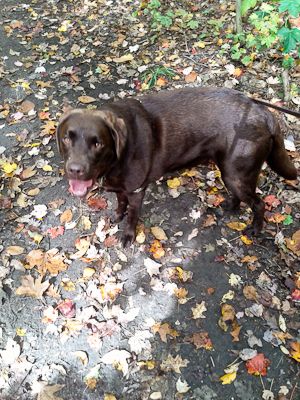 Doesn't he look so happy?
Saturday and Sunday flew by as quick as you can say "turkey and mashed potatoes", bringing us today – the last day off for this year's Thanksgiving weekend. We've always had our Thanksgiving dinner on Monday – every.single.year. We always have the main event at my in-laws' home and I bring along dinner rolls and dessert.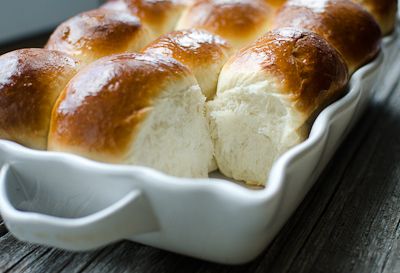 These rolls are a family favourite. Every year, I make them at least twice, maybe three times for large family gatherings – last year, we had them on Thanksgiving and Christmas. This year, we had them on Thanksgiving and a special Sunday dinner when we met my brother-in-law, James', girlfriend (now fiancé!), Kristy,  for a the first time and I suspect, we'll be having them for Christmas again. I've attempted to switch it up and make a different roll. But, I just don't think it'd be Thanksgiving, Christmas, any-other-special-family dinner without it – these are seriously the best! They are pillowy soft rolls, glazed with honey-butter and if you try it, they will  surely become a part of your family's holiday tradition too.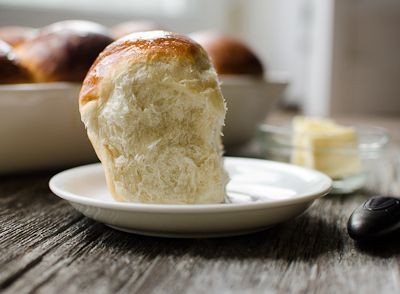 honey yeast rolls
Ingredients
2¼ teaspoons instant yeast
1 cup water (105-115 degrees Fahrenheit)
¼ cup honey
3 tablespoons canola oil
1¼ teaspoon salt
1 egg, lightly beaten
4 cups bread flour
1 tablespoons butter, melted
1 tablespoons honey
Instructions
In the bowl of an electric mixer fitter with the paddle attachment, stir together the yeast and warm water – let sit for three to five minutes. Add the honey, oil, salt and egg to the yeast mixture and mix well. Add three cups of flour and mix until the dough comes together in a sticky mass. Switch to the dough hook and with the mixer on low, incorporate the remaining 1 cup of flour.
Continue kneading on low-speed for 8-10 minutes, until the dough is smooth and elastic. Sometimes, depending on the time of year (during the winter, especially), the dough is a bit drier, and I add in water, a few tablespoons at a time, until the dough is smooth and elastic. The dough should feel soft (not sticky) and pliable when you are finished kneading it.
Transfer dough to a lightly oiled bowl, turn once to coat, and cover with plastic wrap or a clean kitchen towel. Let it rise in a warm, draft-free spot until it is doubled in bulk, about 2 hours.
Turn the dough out on a lightly floured work space and knead about 30 seconds. Cover and let the dough rest for another 10 minutes. Punch the dough down and divide it into 10-12 equal sized pieces. Shape each into a smooth ball and place into a greased 9×13 inch dish, spacing evenly. Cover and let rise in a warm, draft-free spot for 20-30 minutes.
Preheat oven to 400 degrees Fahrenheit. Mix together melted butter and honey and brush the mixture over top of the unbaked rolls. Bake for 15-20 minutes or until the tops are golden brown and the rolls are baked through. Let cool slightly before serving.
Barely adapted from: Annie's Eats