Riley has bunches and bunches of patience. He's a bunny hunter, you see. If he was allowed, he'd be on a stake out all day long waiting for some any bunnies to come along.
It's a shame that no one's told him that bunnies don't come around during the day.
He just sits patiently on his grassy hill, ears perked  and at the ready – waiting to pounce on some unsuspecting little bunnies.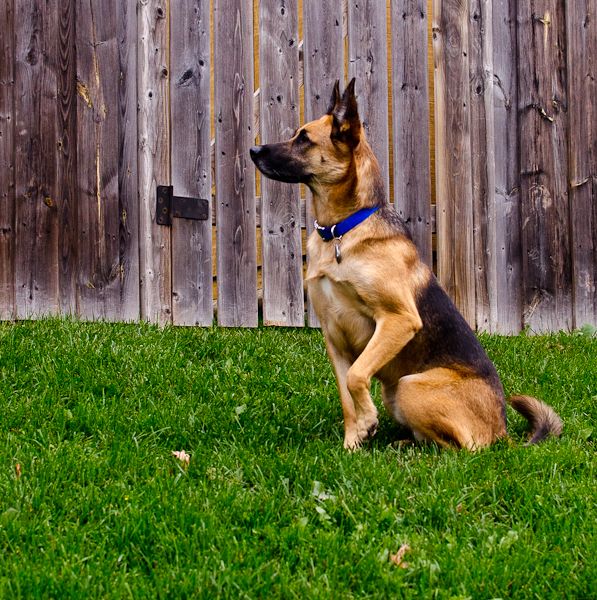 I don't think I'll ever have even a tablespoon worth of the patience that Riley does -  I'm more like Russell, myself. While Riley is on a stake out, you'll most likely find Russ in the following position: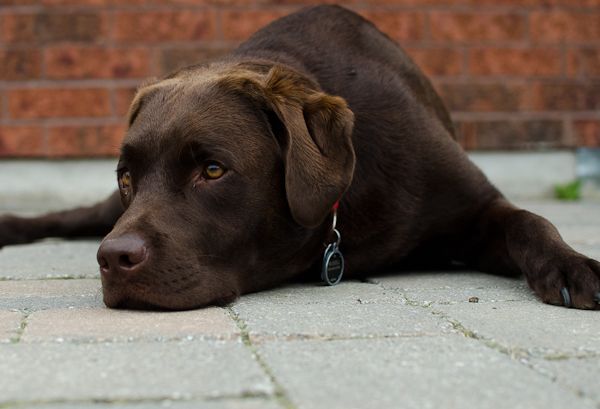 Quite bored, given up on hope of catching any bunnies…and possibly in need of a nap.
Russell is the perfect example of how I want my dinners during the week – I'm not patient – most nights, I am starving before I've even left for home. And after an hour on the road, I'm hardly in the mood to cook – especially now that it's so dark early in the evening.
These days, I'm putting my slow-cooker to work for me. The idea of coming home to an already prepared, hot meal from the slow-cooker is deliciously exciting! I love walking in the front door to the lovely smells of the food that's been simmering away for the previous 6-8 hours.
I've been eyeing up Slowcooker Revolution by America's Test Kitchen for such a long time now and finally bought it a couple of weeks' ago. This book is definitely not one of your basic "dump" and go cookbooks. Each recipe has at least a little bit of prep and recipes that are quicker are tagged as "easy prep", which is handy.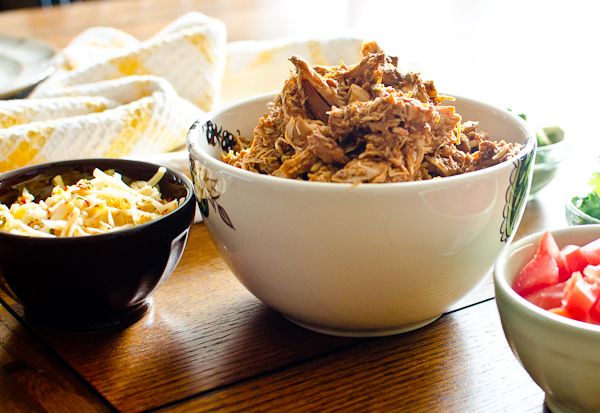 This shredded chicken taco meat is one of the first recipe's we made from the book. The recipe makes about 4 cups of perfectly spiced, shredded taco meat, which is a good thing…a very good thing! We had a few different meals from this one recipe – tacos, enchiladas (recipe to come soon) and taco-rice bowls – and I can probably think of 5 more ways it could be used! The base recipe is really versatile and will give you at least two, if not three meals from one night's effort to put this together – which is not a bad trade-off at all! And since the recipe only cooks for 4-6 hours, the meat is not overcooked and still has a lot of flavour from the added spices. We loved this meal so much that we were really excited to discover MORE leftovers in the fridge from it – it was easily one of our favourite meals this year.
crockpot chicken taco meat
Ingredients
1 onion, minced
3 tablespoons chili powder
1 tablespoons vegetable oil
1 jalapeno chile, stemmed, seeded and minced*
3 garlic cloves, minced
2 teaspoons ground coriander
2 teaspoons ground cumin
1 (8-ounce) can tomato sauce
1-1/2 teaspoons sugar
1 pound boneless, skinless chicken breasts
1 pound boneless, skinless chicken thighs, trimmed
salt and pepper
1 tablespoon fresh lime juice
Instructions
Microwave onion, chili powder, oil, jalapeno, garlic, coriander, and cumin in bowl, stirring occasionally until vegetables are softened, about 5-8 minutes. Transfer to slow cooker.
Stir tomato sauce and sugar into slow cooker. Season the chicken with salt and pepper and add to slow cooker and coat evenly with sauce mixture. Cover and cook until the chicken is tender, 4 to 6 hours on low.
Transfer chicken to a cookie sheet and let cool slightly. Shred the chicken into bite sized pieces. Don't try to get the pieces too small as the chicken will break up slightly when being mixed with the braising liquid.
Let the braising liquid settle for 5 minutes and skim off any fat from the surface using a large spoon.
Toss the shredded chicken with 1 cup of the braising liquid, adding more as needed to keep the meat moist and flavourful. I saved the leftover braising liquid to add for the leftover meat since I figured the leftovers would dry out a bit in the fridge. Stir in lime juice and season with salt and pepper, to taste.
Filling can be stored in the fridge for up to 3 days or frozen for up to 1 month. If frozen, thaw completely prior to using.
Notes
If you are sensitive to heat, I suggest leaving the jalapeno out completely. Also, it seems like the amount of spices would be too overpowering, but the slowcooker does mellow out the dish quite a bit, so just trust the recipe