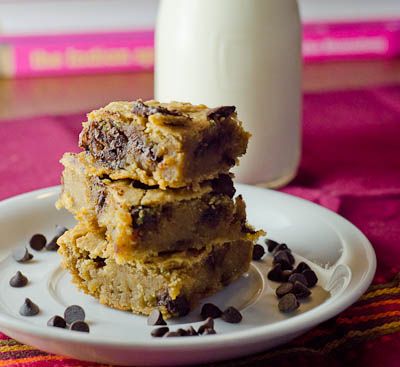 My first love was baking – it's something that helps me unwind like nothing else. A couple of years while working a stressful job with really long hours, I would come home late at night to bake a batch of cookies or cupcakes, which I then took along with me to work making me the office favourite. I haven't baked as much as I did then in a few years – which I take as a great sign that I lead a relatively stress-free life now.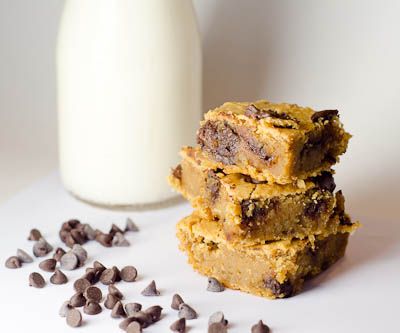 These days I almost have to force myself to bake and when I do, I try to make things that are tried and true, not really trying new things too often. I was in the mood for some blondies and I'd seen these blondies everywhere and had always wanted to try them. Knowing that the blondies were made with chickpeas and no added flour, I was very doubtful that they would taste like the "real deal"  but proceeded based on the great reviews I've seen these receive .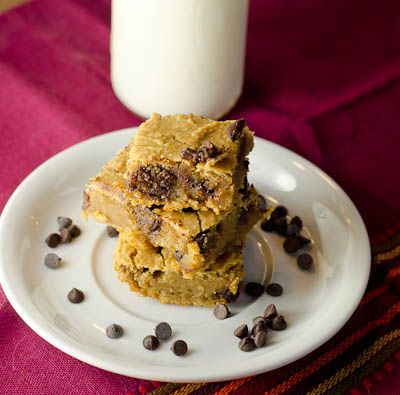 Right out of the oven, these definitely do not taste like the real thing, however, if you wait until they are completely cooled, they most definitely taste like blondies. We had friends visit later in the day who tried the blondies without knowing the truth behind them and were very convinced that they were in fact, "the real thing".
So, virtual high-five to you, Chocolate Covered Katie, for coming up with this fab recipe – we loved it.
Chocolate-chip Blondies
Ingredients
1-1/2 cups chickpeas (equals a 250g can, drained and rinsed)
¾ tsp baking powder
⅛ tsp baking soda
¼ tsp salt
¾ cup brown sugar
2 tsp vanilla sugar
¼ quick oats
¼ cup almond butter (you could use peanut butter, but I don't like peanut butter baked goods)
½ cup chocolate chips
Instructions
Preheat oven to 350 degrees. Blend all the ingredients, except chocolate chips, until very smooth in a food processor.
Mix in chocolate chips and pour into a greased 8×8 pan. Bake for 25-30 minutes.
Notes
The blondies will looked a bit undercooked when you pull them out but will firm up once they are cooled
Barely adapted from: Chocolate Covered Katie