Don't you just love the classics?
There's so many kinds of fancy cookies out there – whole-wheat-pumpkin-peanut-butter-chocolate-brown-butter cookies, anyone? just kidding! But seriously, sometimes all a person wants is a good old, soft and chewy chocolate chip cookie and not a super complicated cookie with a lot of stuff.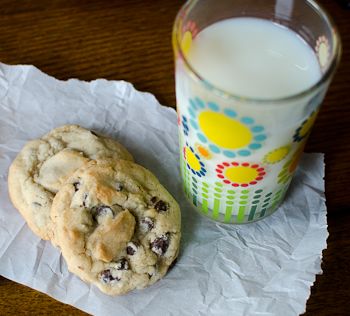 Jon often jokes that inside me lives a 90 year-old grandma – my love of classic flavours and cutesy dishes (like the glass in these pictures), that might remind you of your grandma, are apparently proof of this. But, I'm a big believer that while trendy flavours and foods come and go, the classics – like chocolate chip cookies – never go out of style, and it's one of those recipes that will remind you of your childhood (even if your childhood didn't have any chocolate chip cookies in it – like mine).
These chocolate chip cookies are my go-to recipe any time I want to make this classic cookie. It is soft and chewy, with a buttery taste, but it isn't greasy, as some chocolate chip cookies tend to be. With the addition of a teaspoon of coarse salt in the batter, the final baked cookies have a little "something-something" that attracts adults and kids, alike. Though I've made quite a few other chocolate chip cookies, I'm a huge procrastinator and usually, when I need to make cookies, I need the cookies…like now. So, while those other recipes are awesome, I just needed one that could be a ready-in-20-minute cookie. And not only does this cookie compare, but dare I say, it's my favourite to date – and a favourite of most of the people at our church, too, who have been the lucky (last minute) recipients of these cookies numerous times.
And as an added bonus – this recipe makes about 3 dozen cookies – perfect for a bake sale or potluck, or a monster cookie craving!
chocolate chip cookies
Ingredients
2-1/4 cups all purpose flour
½ teaspoon baking soda
1 cup unsalted butter, room temperature
½ granulated sugar
1 cup packed light brown sugar
1 teaspoon coarse salt
2 teaspoons pure vanilla extract
2 large eggs
2 cups semisweet or milk chocolate chips, or a combination
Instructions
Preheat oven to 350 degress Fahrenheit. Whisk together flour and baking soda in a bowl. Put the butter and sugars in the bowl of an electric mixer fitted with the paddle attachment and beat on medium until the mixture is pale and fluffy, about 2 minutes.
Reduce the speed to low. Add in the salt, vanilla and eggs; mix until well blended, about 1 minute.
Mix in flour mixture, until just combined. Do not over-mix. Stir in the chocolate chips.
Drop heaping tablespoons of dough onto baking sheets lined with parchment paper, spacing 2 inches apart. Bake the cookies until edges turn golden but centers are still soft, 10 to 12 minutes. Let cool on sheets on wire racks, 2 minutes.Transfer cookies to wire racks; let cool completely.
Cookies can be stored between layers of parchment in airtight containers at room temperature up to 1 week.
Source: barely adapted from Martha Stewart's Cookies
{ 0 comments }